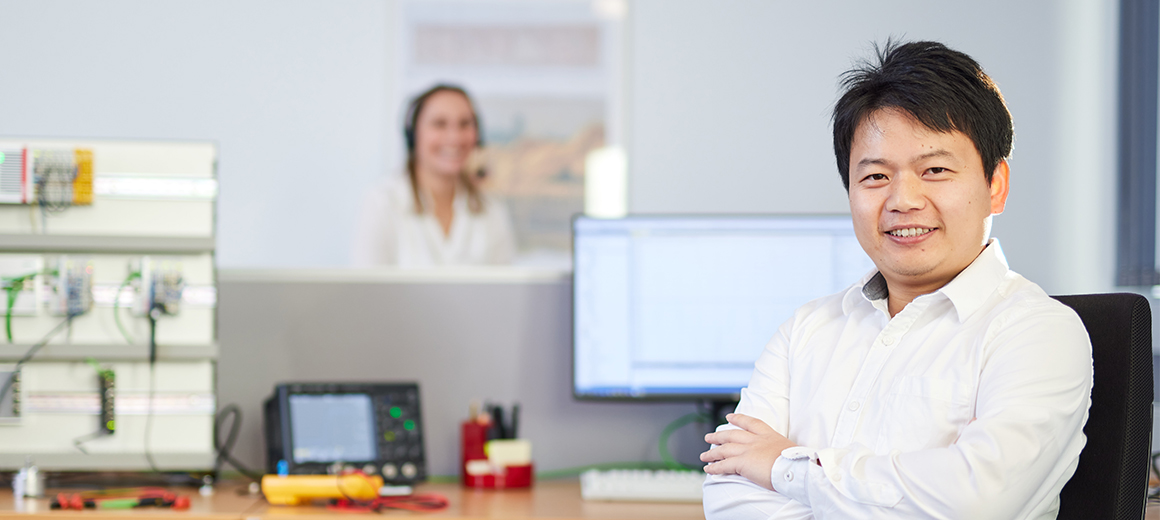 Workplace
Headquarters Taiwan (Chinese Taipei)
Beckhoff Automation Co., Ltd.
Workspace
Application
Start
As soon as possible
Responsibilities
Support of customers in planning automated systems for their machines and plants and writing of programs.
Assisting customers in solving problems concerning the application of products such as IPC/IO/Drive (hardware) and TwinCAT (software), providing them with application examples or documentation and instructing clients how to use these products.
Compliance with the company's product development strategy and ability to self-study and to promote the products independently.
Assisting customers in carrying out product or system tests, adjusting or calibrating machinery and in troubleshooting on site.
Direct international communication and contacts regarding product applications and functions.
Providing training to the customers.
Preparing technical manuals and videos about the products.
Qualifications
Education background: specialized degree in fields such as electronics/electrical engineering/machinery/information engineering.
Enthusiasm, discipline, high level of logical thinking, creativity, open and frank attitude, willingness to learn, resilience etc.
Familiarity with PLC and IEC 61131-3 and relevant practical programming experience is a plus
Familiarity with at least one programming language from Visual Studio C/C++/C#
Development experience with optical recognition applications is a plus
On-site PLC testing experience is a plus
Development experience with the integration of different machines is a great plus
Experience with the integration of mechatronics systems is a plus
Applicants with practical experience with CoDeSys related IEC programming software will be prioritized for recruitment.
Headquarters Taiwan (Chinese Taipei)
Beckhoff Automation Co., Ltd.
No. 38-2, Yongchun Road
Nantun District
Taichung
408
Taiwan (Chinese Taipei)