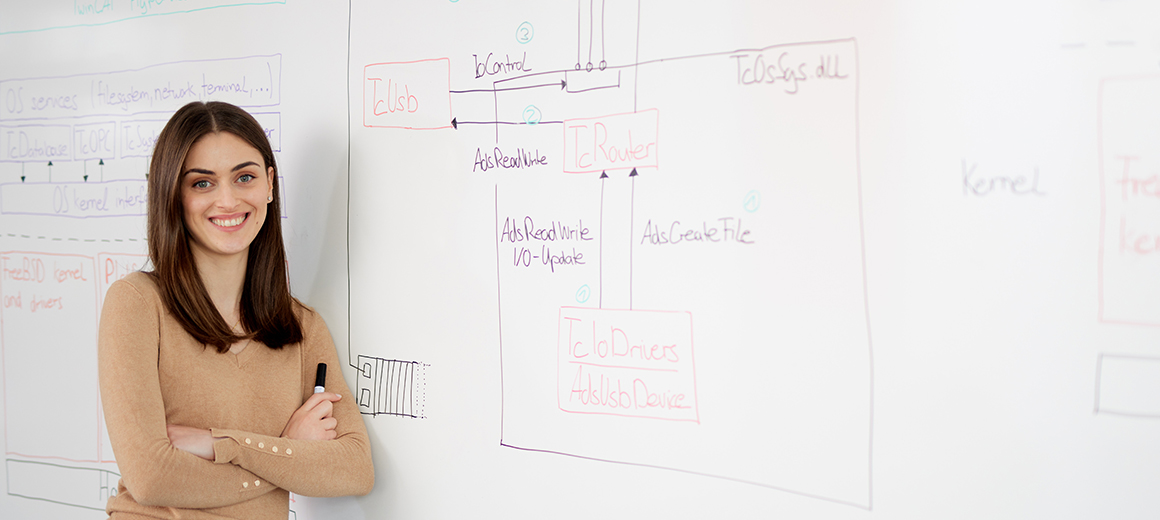 Workplace
Headquarters United States
Beckhoff Automation LLC
Workspace
Product Management
Start
As soon as possible
Beckhoff implements open automation systems using proven PC-based control technology. The main areas that the product range covers are industrial PCs, I/O and fieldbus components, drive technology, automation software, control cabinet-free automation, and hardware for machine vision.
Responsibilities
Take lead/ownership of subset of TwinCAT automation software product family. This includes the following functions related to those products:
Product Expertise
become knowledgeable with the functions and features of your software products; customer will expect detailed conversation about your products
support training and product introduction for new products for team members, external colleagues, and early adopter clients
provide application approach strategies using TwinCAT software tools and functions for both internal colleagues and external clients
stay knowledgeable about competitor offerings, trends in our controls market, and feedback about software product needs in our market our customer base
direct connection with product team at Beckhoff German Headquarters to communicate product requirements/feature requests, as well as escalated major product functional issues
listen for, and look for ways to improve your software products (usability, feature sets, innovations and communicate this to Beckhoff German Product Managers to be implemented)
identify "product solutions", fulfilling common solutions in industry by bringing together various products from the expansive Beckhoff portfolio; manage creation of the solution or sample solution
create knowledge base articles, updating wiki and small group trainings
Product Promotion
develop and execute launch strategies new products within U.S. market
work with Marketing Communications to create product promotion materials such as videos, webinars, articles
create and/or refine product message for field team to deliver to clients (product use cases, advantages, success stories)
create software demos to promote product features, includes industry trade show demos, digitally accessible demos, sample code/projects, etc.
Reasonable accommodations may be made to enable individuals with disabilities to perform the essential functions.
Qualifications
programming of web technologies (HTML5/JS/CSS)
experience with JavaScript/TypeScript
experience in sophisticated development environments and tools such as CI/CD, source control offerings, build servers, etc.
Computer science concepts in including source control and object oriented programming (OOP)
automation systems architecture and planning
industrial controls systems and programming
IEC 61131-3 and 3rd programming languages
experience with TwinCAT software
experience with Industrial HMI software and applications
basic familiarity with industrial fieldbuses/EtherCAT
optional: experience with MATLAB®/Simulink®
optional: experience with LabVIEW
optional: experience with Machine Learning
Education and Experience
Bachelor of Science or higher in Engineering, Computer Science, or related technical field from a four-year college or technical school; or equivalent combination of education and experience, 5-8 years' experience
ideally experience on commercial aspects of product, i.e. Product Management, Sales, etc.
experience with industrial control systems (PLC, embedded, PC-based, etc.)
ability to handle multiple issues, prioritizing and effectively managing team resources.
ability to lead team efforts in recognizing large scale issues and coordinate efforts with other team members to quickly solve large scale problems
ability to relate well in a customer service role with technology end users.
ability to work in a high stress environment while maintaining professionalism.
excellent written and oral communication skills with the ability to present to clients, companywide, and/or departmental meetings
an active and valid driver's license with the ability to travel
Benefits
exciting tasks in an international environment at the technology leader in automation
a future-proof job with an economically sound global player
all advantages of an owner-managed family company
an open and family-oriented corporate culture
freedom for personal expansion and professional development
Headquarters United States
Beckhoff Automation LLC
13130 Dakota Avenue
Savage
,
MN
55378
United States