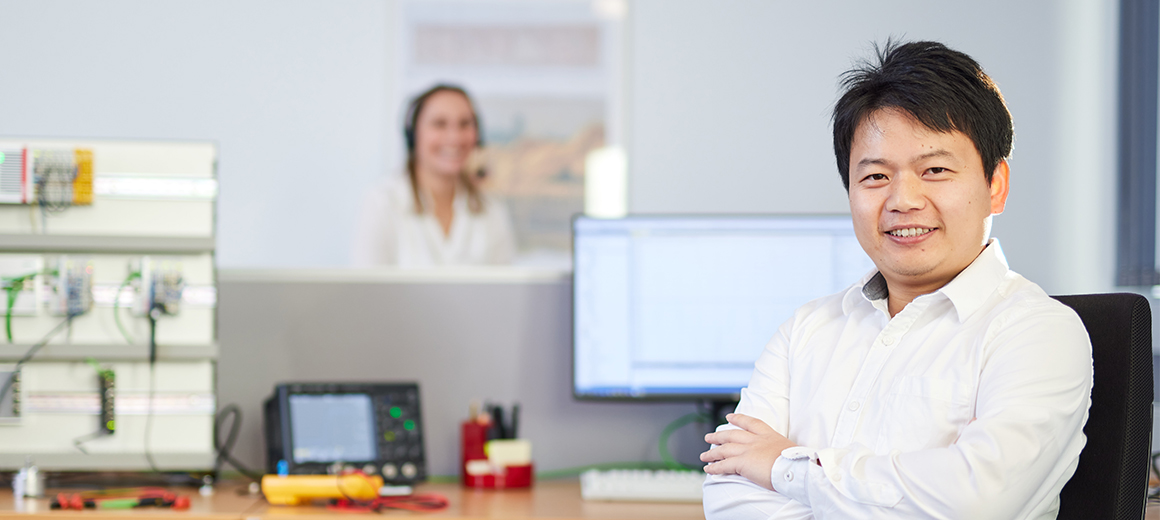 Workplace
Representative office Thailand

Workspace
Application
Start
As soon as possible
Beckhoff is a well-known control and automation company founded in Germany in 1980. We implement open automation systems using proven PC-based control technology. The main areas that the product range covers are industrial PCs, I/O and fieldbus components, drive technology, automation software, control cabinet-free automation, and hardware for machine vision. Product ranges that can be used as separate components or integrated into a complete and mutually compatible control system are available for all sectors. The central divisions of Beckhoff, such as development and production are located at the Beckhoff headquarters in Verl, Germany. Beckhoff is represented by 24 sales offices located across Germany, 40 subsidiaries worldwide with presence in almost 75 countries on the international market.
Since 2016, Beckhoff has been represented in Thailand, the second-largest economy in Southeast Asia with a large number of businesses in tourism as well as in the automotive and electronics industries. Our team of experienced engineers around managing director David Chia and the local team thus located at a short distance to our customers from the food and beverage, pharmaceutical, automotive, and electronics industries, bringing to them universal and open control and automation solutions. Beckhoff Thailand will be further expanding to help local OEMs leverage New Automation Technology to increase business competitiveness.
We are a representative office in Bangkok, Thailand currently and we are actively expanding our team to reach out to more industries. We strongly believe the strength of PC-based control and readiness of our technologies can take on the challenges towards Thailand 4.0. We invite engineers who share our vision and are eager to take up new challenges in your career to have a chat with us.
Responsibilities
technical support activities for the complete spectrum of automation products such as industrial PCs, fieldbus components, PC/NC automation software, drives technology and complete PC-based automation solutions
programming support for our customers' applications in IEC 61131-3 and high-level languages (C#, C++, .NET, VB) on a PC platform under Windows
work with and support development of customer-specific control applications
conduct product and application training
Qualifications
diploma/degree in electrical engineering, automation or related field
preferably 3–5 years of working experience in related field
programming experience in IEC 61131-3 and good high-level language skills
good knowledge of automation technology, fieldbus systems and PC technology
proactive, self-starter and team-oriented
valid driver's license with own car is an advantage
requires travelling within Thailand
Benefits
exciting tasks in an international environment at the technology leader in automation
a future-proof job with an economically sound global player
all advantages of an owner-managed family company
an open and family-oriented corporate culture
freedom for personal expansion and professional development
Covid-19
In view of the global pandemic, international travelling is severely restricted. Training and discussions with the regional HQ will be conducted over MS Teams on a best-effort basis. Once essential/business travelling is allowed, we may resume travelling cautiously. Meanwhile, our company is also transitioning to a result-based work culture as opposed to time-based.
Representative office Thailand
SJ Infinite One Business Complex, 14th Floor
349 Vibhavadi Rangsit Road
Bangkok
10900
Thailand