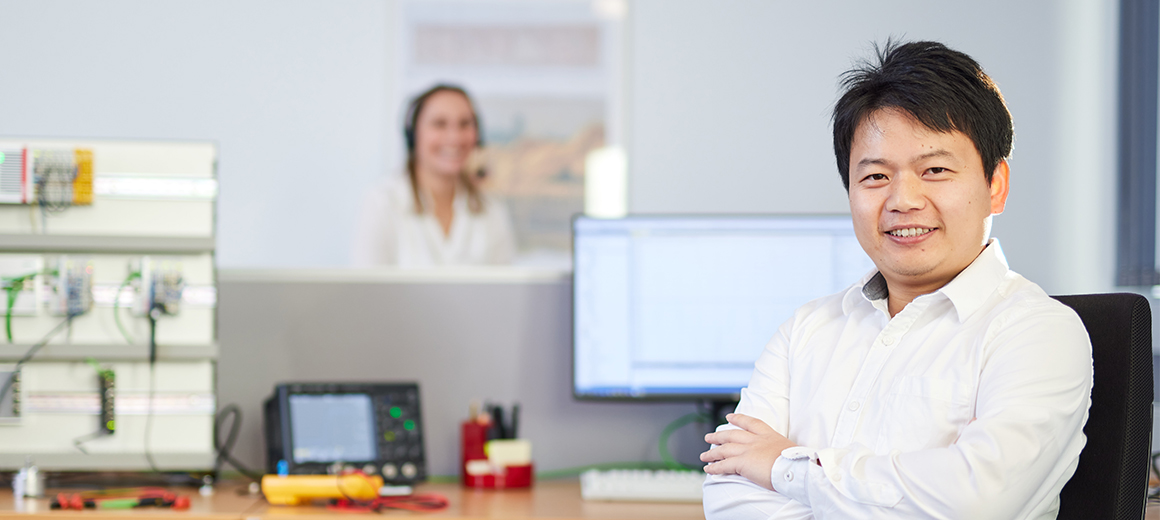 Workplace
Representative office Vietnam

Workspace
Department-specific
Start
As soon as possible
Beckhoff is a well-known control and automation company founded in Germany in 1980. We implement open automation systems using proven PC-based control technology. The main areas that the product range covers are industrial PCs, I/O and fieldbus components, drive technology, automation software, control cabinet-free automation, and hardware for machine vision. Product ranges that can be used as separate components or integrated into a complete and mutually compatible control system are available for all sectors. The central divisions of Beckhoff, such as development and production are located at the Beckhoff headquarters in Verl, Germany. Beckhoff is represented by 24 sales offices located across Germany, 40 subsidiaries worldwide with presence in almost 75 countries on the international market. Our office in Vietnam is operational since 2019, and we are continually expanding our team to explore further business opportunities. We look for suitable professionals, who share our vision and are eager to take up new challenges in your career.
About the programme
This is part of our talent pipeline engagement, to ensure we have motivated engineers joining us during each stage of our local/regional expansion. This is a 6-month traineeship with the company, meant for fresh graduates from the polytechnics and universities. During the traineeship, you will be introduced to the world of industrial automation and rotated through various departments for a broad understanding of what we do. During the traineeship, you will be paid a training allowance.
Why join this programme?
Many graduates do not know where to start their career. We hope to provide you a sneak preview into the high-tech automation industry without the commitment of a permanent job, and neither label of "job hopper" when you decide it is not the place for you.
Training highlights
general introduction to automation
rotation to any two of the following departments:

sales and marketing
solutions and application
service and support
operations and logistics

any other ad-hoc duties as and when required
Requirements
independent and able to multi-task
good communication and interpersonal skills
good command of both written and spoken English is required
Career prospects
Depending on your inclination during the programme, you may be offered a permanent role into any of the above departments.
If you wish to know more about career prospects, you can drop us an email at t.nguyen@beckhoff.com.vn to schedule a one-on-one career chat.
Contact
Representative office Vietnam
#29.05.Pearl Plaza, 561, Dien Bien Phu Street, Ward 25
Binh Thanh District
,
Ho Chi Minh City
Vietnam